Séjour Football

Atletico Madrid-Eibar

Madrid

Du 15 Sep 2018

au 16 Sep 2018 On the 23rd day of the Liga BBVA, the Colchoneros will face the team of Eibar. These Basques, who have the smallest budget in the championship, are no less ambitious and plan on playing those spoilsports with pride. See you at theVicente Calderón stadium for this meeting!
Your Premier League weekend comprises:
- 1 night of accommodation in Madrid
- Breakfast
- A ticket for the match
Stadium Map
imageplanstade
Pour cette rencontre, nous vous proposons le billet officiel au stade Wanda Metropolitano selon les 3 catégories détaillées ci-dessous.

Bon à savoir : les places de stade en tribune latérale centrale vous donnent accès à l'espace VIP CLUB, grande zone de loisirs et de divertissements.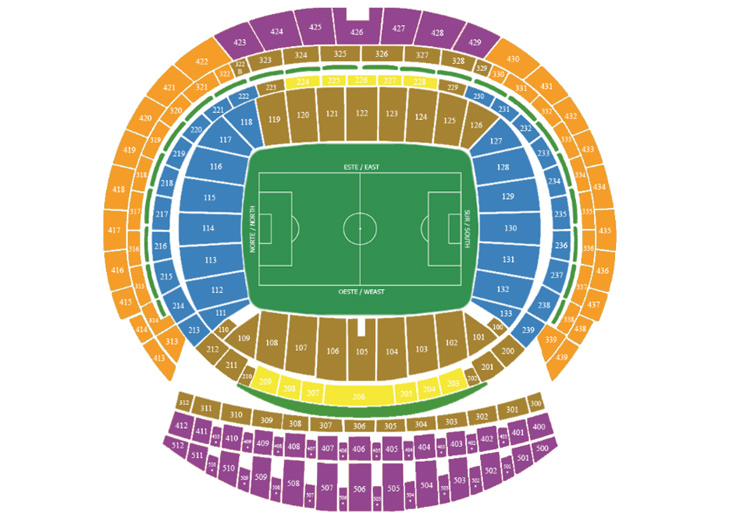 Merci de noter que ce séjour est destiné uniquement aux supporters de l'Atletico Madrid. Si vous supportez l'équipe adverse, le personnel de sécurité peut vous refuser l'entrée au stade (attention aux écharpes, casquettes, maillot...).
ACCOMMODATIONS
prolongation
For this game, we can offer you 3* hotels in a convenient location. You will be able to reach the Vicente Calderón stadium in 25 minutes walking, and the sites of the capital in a few minutes on the metro.
We ask you to please take into account that television programming and/or other national competitions can modify the date and time of the match. In case of rescheduling, Couleur will make a maximum effort to make your services coincide with the date of the match but holds no responsibility.
Reviews
You may also be interested in the following product(s)